Warrior Goddess Series
Please email Susan if you are interested in future Sacred Circles.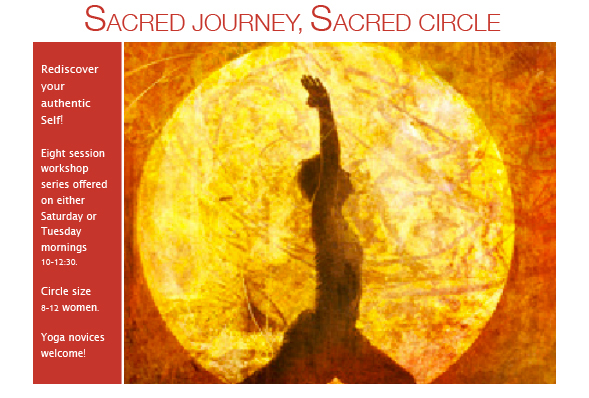 Sacred Journey, Sacred Circle
Kundalini Yoga and Warrior Goddess Training Circle 8-Session Series
Yogic teachings instruct that as women, we are the Grace of God. In our Western culture, the feminine soul is not often appreciated for its way of being in the world. So often we ourselves compare and compete with one another instead of collaborating and cooperating to understand and enrich each other. This sacred circle is a safe and nourishing way for women to gather, share our wisdom and ​rediscover how precious we are​.
In this eight session workshop series, we will first work on centering ourselves in our bodies and assessing where we are, then focus on breaking through obstacles to our growth, and finally honor ourselves and new found wisdom, bringing this new learning into our everyday lives.
When we work on our own Wholeness, we then inspire our loved ones to follow us into greater Wholeness.
Format
The sessions will be divided into two segments. The first part will be focus on breathwork, yoga, meditation and end with a period of deep relaxation. The second part will begin with checking in with​ one​ other, a topic discussion​ (see below)​, an exercise around the topic, and a closing of the circle.
All sessions will be between 2 and 2-1/2 hours.​
*No prior ​yoga experience is necessary.
Dates
In the beginning, we will meet weekly to establish a rapport and trusting circle, as the work proceeds we will meet every other week. The fourth session will be a RETREAT DAY for an extended period of time, and will include a healthy vegetarian lunch.
| | |
| --- | --- |
| Session 1 | Align With Your Life |
| Session 2 | Self Assessment of Body, Mind, Energy, Emotions |
| Session 3 | Grounding and Freeing Your Past |
| Session 4 | RETREAT DAY – Energize Your Sexuality and Reclaim Your ​Strength​ |
| Session 5 | Open Your Heart |
| Session 6 | Speak Your Truth |
| Session 7 | Embody Your Wisdom |
| Session 8 | Chose Your Path and Closing Ceremony |
What Can I Expect to Learn?
Together we will be practicing Kundalini Yoga, which is the Yoga of Awareness. You can expect to grow in greater understanding and appreciation for who you are right now. You will also learn ways to quiet your mind through mindfulness, meditation and breathwork; develop a spiritual practice to nurture your inner life; and connect to other women in an authentic, supportive way.
How Much is it?
This series will be a total of 20-25 hours over a period of 3 months.
The investment is $450.00, including all materials.
**If you bring a friend, you can each deduct $25.00 off the fee (up to two friends)***
Why Do This Kind of Work?
The world needs your unique, authentic light to shine brightly to bring more balance not only to yourself, but to all those around you.
Who is this For?
This series is for women of all ages and phases in life who are working on their Wholeness, and are searching for a community of like minded women as companions on the journey along the path to their embracing their ​authentic Self​.
What is the Circle Size?
The size of the group for the series will be ​a minimum of 8 and a maximum of ​12 women.
Who is Facilitating and What is This Work Based On?
My name is Susan Pannier-Cass and I have been practicing Kundalini Yoga for over twenty years, and teaching since 2001. I am also a Certified Spiritual Mentor (Haden Institute, NC) and have led several women's circles in Charleston, SC (I recently moved back to my hometown of Chicago). The Warrior Goddess portion is based on the work by Heather Ash Amara who studied with don Miguel Ruiz (The Four Agreements). When I read her book Warrior Goddess Wisdom, it was very similar in style and content to the workshops I had been leading and ​it ​deeply resonated with me. I am grateful to have been granted permission to use her work in this series!
Interested in Having Me Facilitate a Circle? Need More Information?
Feel free to contact me by email or (843) 364-0552.
10% of the proceeds from the workshop series will be donated to Yoga For Youth, an inner city program that brings yoga to troubled and at risk young people.